Meet Baby Kevin (his dad sells $20k/mo on Amazon)
Meet Baby Kevin —
Baby Kevin has been enjoying learning about Amazon with his dad, Adam for his entire 8-month life now. He's the youngest member we've ever had in our training, and is just soaking in every week's livestream session in my VIP student group!!
His dad has also been working hard, actively participating from day one. Adam started selling on Amazon in 2018, but was encouraged by another training he was taking at the time to find a whopper "homerun" product to sell, which proved to be more than a beginner can realistically handle, and actually put him 12k in debt. He was even farther away from the goal of quitting his 9-5 job than when he started.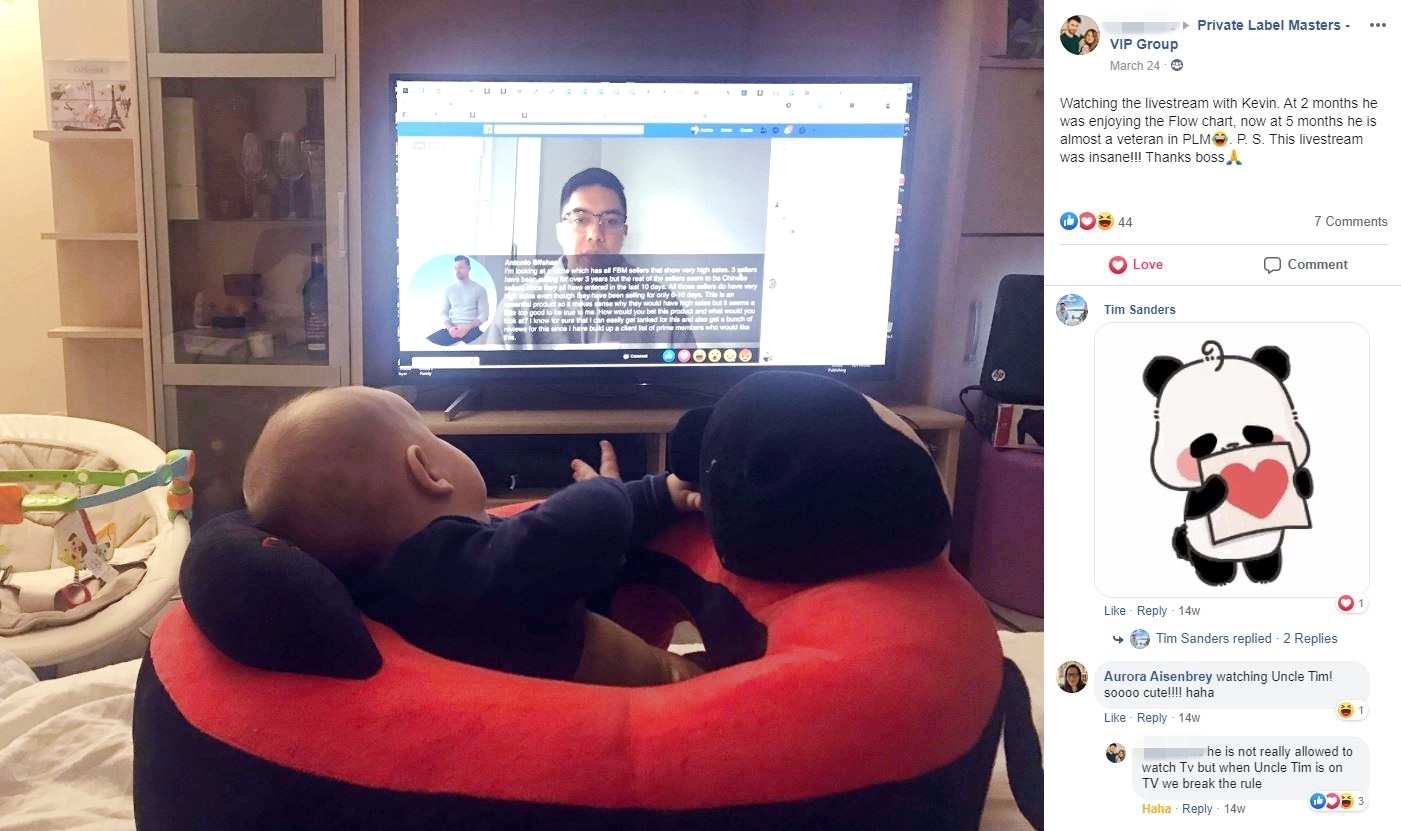 Kevin's dad knew that private label selling on Amazon could be his key to more family time and a career he enjoyed.
What he didn't realize was how much cashflow it takes to maintain a big-seller.
Who? Kevin's dad
Problem: Got in over his head, based on the bad advice of a low-level course.
Solution: Join Private Label Masters (my in-depth training program that shows you how to choose and launch winning products by following the same strategies I employ in my own current 8-figure Amazon business.)
Did it work? Yep. After putting that beginner product behind him, once Kevin's dad dove into my training, he soon got the right pieces lined up to really be successful. Even after sitting it out for an entire year… he finally jumped back in this spring (2020) and found out that Amazon is still a wide-open playing field, and that his customers were just waiting for his products to show up. Instead of aiming for a "homerun" this time, Kevin's dad has now found a few steady, well-chosen "singles," which are bringing in $20k each month. He's on his way to leaving behind his 9-5 job, so that Kevin can have even more dad time.
Here's a screenshot of Baby Kevin's dad sharing his journey —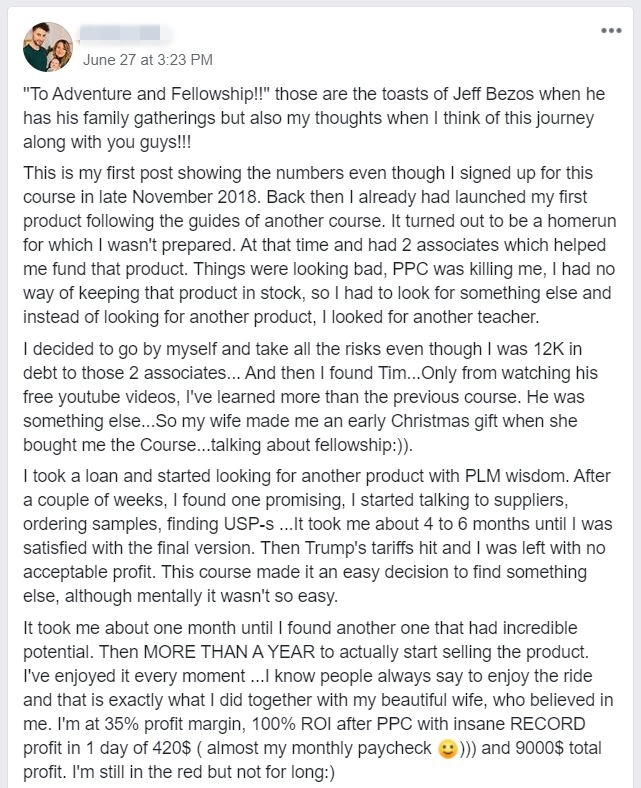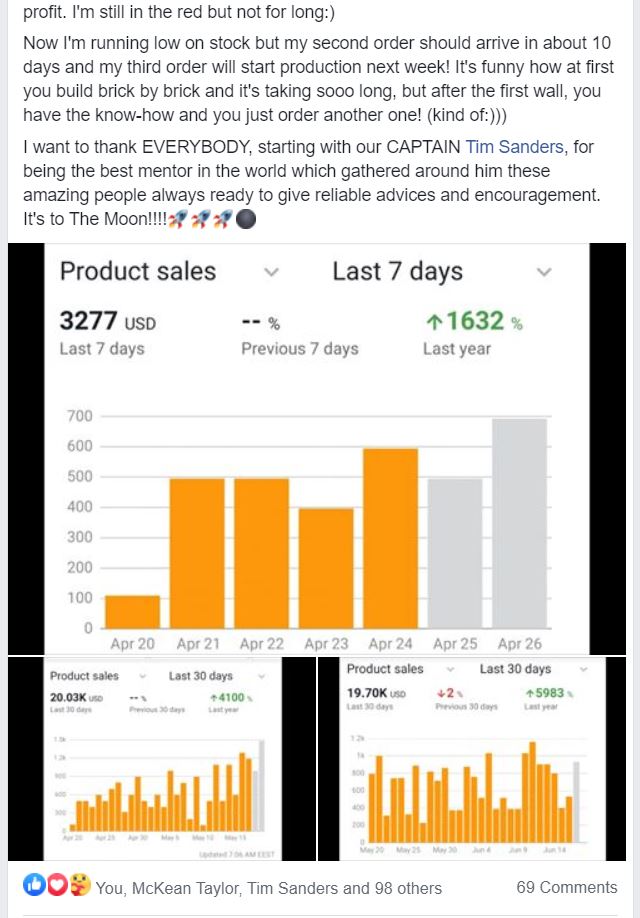 Here's what I can tell you about Adam (name changed for privacy) —
He is fully engaged in the process and takes in all the information, through lessons and livestreams, without skipping anything. He participates in the community, and takes my advice to heart. He's making this investment COUNT.
I've watched many students over the last 2 years come through my program, and I can tell you that the ones who do the best are always the ones who don't take it lightly.
These are the entrepreneurs who know that this opportunity – that of running your own business, being your own boss, and selling on Amazon – is unique. They can envision the future of what it will feel like to work for themselves, on their own schedule, and with the freedom to build whatever they want. And they are not going to let a few bumps in the road distract them from grabbing that chance.
Meanwhile, most of their friends and colleagues follow the traditional path of: school, job interviews, and then corporate ladder, praying that eventually they land a position they might enjoy which also pays the bills. These are the ones stuck in a system that they do not control, and while comfortable, is far from fulfilling.
But Kevin's dad isn't going to be one of those people. He's passionate about his life, his family, and about his Amazon business. With the nuts and bolts now properly in place, the sky is the limit – he can keep building and innovating in whatever direction he wants (with Kevin by his side, of course)!
From wrong advice putting him in debt… to $20k a month and father-son time…
So, do you want results like these for yourself?
If you do, I have good news! We can get you results like this. It won't be easy, nor will it happen overnight, but I've seen it happen so many times that I can tell you that's it's possible.
You've got to be willing to take action, follow the steps, unlearn bad habits, relearn the right methods, persevere, participate in the community, engage in the process, and TAKE IT SERIOUSLY.
If this attitude sounds like you, then it's time to get to work!
Click here to complete this short survey and let's begin the journey.
-Tim
Private Label Masters 1007 West College Avenue #413 Santa Rosa, California 95401 United States