CJ Zhong did £50k/mo in the UK market after only two months
Meet CJ Zhong —
CJ jumped into the Amazon arena at the beginning of 2019. He was an active member of many peer seller groups around on Facebook and I remember seeing him post in several of those, asking many questions about private labeling. He was working hard to figure out the process on his own, but the problem was, he was getting so many conflicting answers from random people offering their "2 cents"… All of this free advice was just making him even more confused and uncertain about the correct path forward. He had found a handful of pieces to the puzzle, but not the full picture.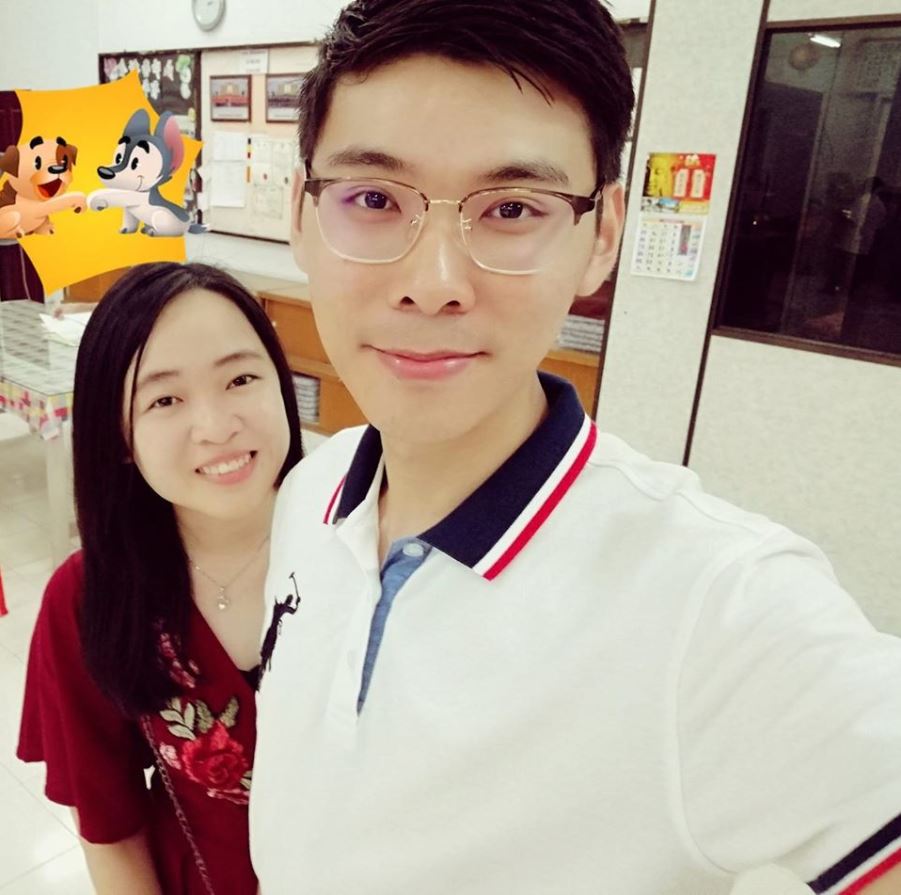 CJ had an assortment of opinions and methods to pick from, some accurate and some not.
What he didn't have was a clear set of proven instructions and higher level tactics from an experienced mentor with a real sales track record.
Who? CJ Zhong
Problem: Stuck in "DIY" mode but wanting to elevate his knowledge above the crowd.
Solution: Join Private Label Masters (my in-depth training program that shows you how to grow your own private label brands by following the same strategies I used to grow my own 8-figure Amazon business.)
Did it work? Yep. CJ joined my training in June of 2019 and swiftly implemented my product optimization and launching instructions, fully revamping all of his existing listings with the tools and professionals I recommend and use myself. By December of that year, just 6 months after joining, he crossed his million-dollar mark in sales.
Here's a screenshot of CJ sharing this great milestone –
That in itself was a huge accomplishment, but he wasn't stopping there! With the USA firmly under his belt, CJ branched out into the UK market the following March… Within 2 months he was already grossing £50k per month.
The power of correct information from a trusted source has enabled him to completely blow away all of his competitors and gain a foothold in a new market.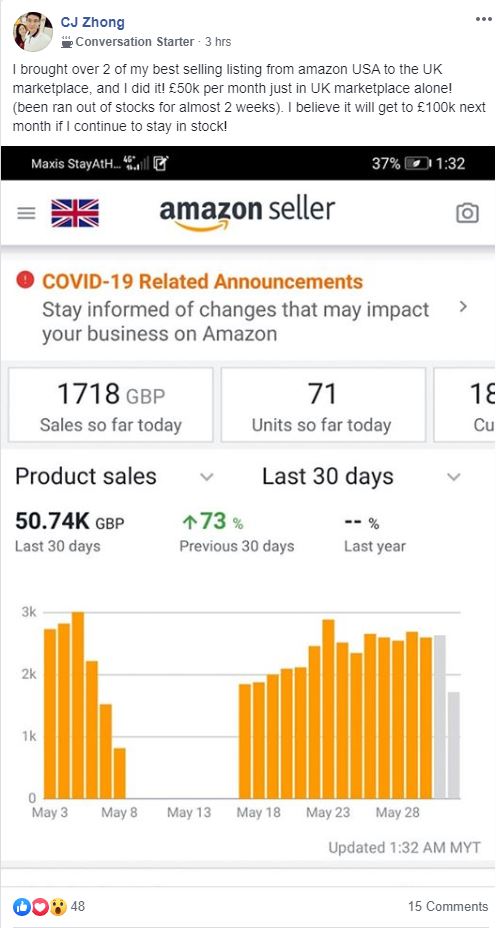 Here's what I can tell you about CJ —
He's the type of guy who is willing to learn and take in new information – I could see that persistence and curiosity even back when he was posting in those public groups. While at first he tried to save money by going it alone, he soon realized the value of doing it right – investing in smart business advice is what has made him so much more money in the long run!
CJ was willing to learn and grow, and his business has flourished as a result of finding and following higher level methods.
I've watched many students over the last 2 years come through my program, and I can tell you that the ones who do the best are always the ones who have curiosity, who search for the best strategies, and then take off running with them.
These are the ones who have a goal, whether that is financial or personal. They make decisions with that goal in mind, and don't let confusion or fear get in the way of taking concrete steps toward it.
Meanwhile, there is a whole crowd of "DIY'ers" still chatting in those free Facebook groups, still stuck with their small incomes and outdated strategies. They are on a much slower trajectory to freedom. They may have saved a few pennies, but they have lost millions in opportunity cost.
I'm really proud of the progress I've seen in CJ since he joined my training. He has been continually engaged with the process, always asking higher level questions in my private student group, and pressing on for bigger goals.
From DIY confusion… to 7 figure sales and international success.
So, do you want results like these for yourself?
If you do, I have good news! We can get you results like this. It won't be easy, nor will it happen overnight, but I've seen it happen so many times that I can tell you that's it's possible.
You've got to be willing to invest in correct knowledge, be open to learn, fearlessly take action, try new things, shut out the noise, focus on the goal, and Make the Most of the Tools at Your Disposal!
If this sounds like something you're up for, then it's time to get to work!
Click here to complete this short survey and let's begin the journey.
-Tim
Private Label Masters 1007 West College Avenue #413 Santa Rosa, California 95401 United States