Meet Sean Liao (Canadian making $150k USD per month)
Meet Sean Liao —
Sean, for several years, had been quietly running an independent online store in Canada, when suddenly, the product manufacturer asked him to branch out onto the world of Amazon. This was a totally new field for him, and he was a bit daunted by all the logistics and steps he needed to learn. How could he compete with other established products and brands on the biggest ecom platform in the world?? How would his product be seen by shoppers? He knew he needed to get this right, and learn from someone who could help him get on the right track from the get-go.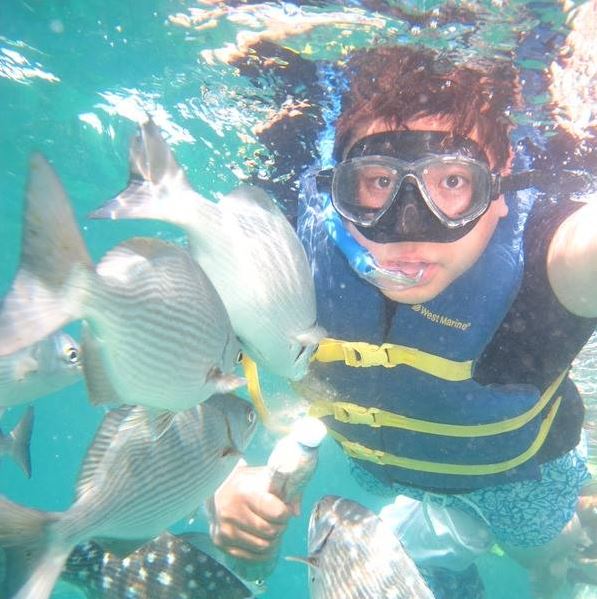 Sean knew how to sell from his own website, away from the crowd, and he knew what his target customer was for the product.
What he didn't know was how to use Amazon to find and connect with them in a new way, or how to compete with the millions of other products on there, all products also vying for the customer's attention. He was no longer a big fish in a little pond. How could he stand out?
Who? Sean Liao
Problem: Learning all the skills required to become a top competitor in his product niche in the bigger ocean of Amazon.
Solution: Join Private Label Masters (my in-depth training program that shows you how to grow your own private label brands by following the same strategies I used to grow my own 8-figure Amazon business.)
Did it work? Yep. Sean signed up for my training in November of 2018, and by April of 2019 had launched his first Amazon-based product line. Within 6 months, he had already scaled to $50k a month, and within 11 months' time (April 2020) had doubled that to the $100k/mo mark.
Here's a screenshot of Sean's sales from this month —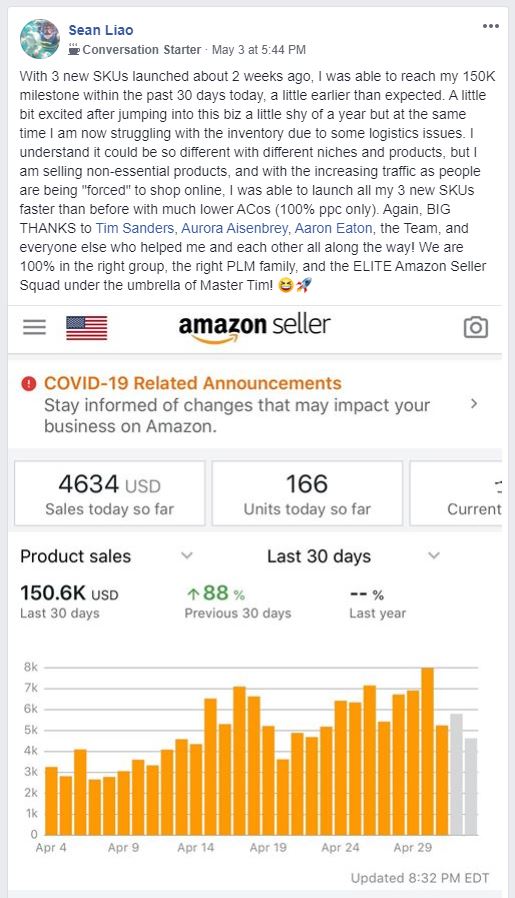 Here's what I can tell you about Sean —
He's is a very methodical and analytical guy, and has another special quality: COURAGE.
He started on Amazon, eyes wide open to the big task ahead of him, and rather than be afraid that he would stumble, he decided to get to work studying. He knew that, as an analytically-minded person, it's important to listen to the right narrative. He could choose to see the problems and get overwhelmed. Or he could choose to learn the solutions of those who have gone before him and who have already paved the way. Sean chose to be a courageous problem-solver and overcomer of obstacles.
I've watched many students over the last 2 years come through my program, and I can tell you that the ones who do the best are always the ones who remain intentionally brave and optimistic.
These are the entrepreneurs who do not let the negative fear-based narrative play through their minds – the endless stream of "what ifs". They put knowledge and courage into their mindset instead. They make the decision to look past fear, and see the possibility. Then they find that possibility becomes their reality.
Meanwhile, there are the ones who zero in on every tiny obstacle, and magnify it. They look at the ocean and can only imagine sharks. These are the types of people who are too afraid to even start or make an attempt. Their own minds have overcome them before they begin.
But Sean has taken my philosophy of "Positive Reframing" to heart, and now has jumped over all his obstacles with flying colors, and has a thriving 6 figure per month Amazon store after just a year.
From being a big fish in a little pond, to a shark owning his niche on Amazon…
So, do you want results like these for yourself?
If you do, I have good news! We can get you results like this. It won't be easy, nor will it happen overnight, but I've seen it happen so many times that I can tell you that's it's possible.
You've got to be willing to put your head down and learn, be courageous, be a problem solver, implement plans, follow through on strategies, and keep pressing forward, with an Overcomer Mindset.
If you are ready to do all of the above, then it's time to get to work!
Click here to complete this short survey and let's begin the journey.
-Tim
Private Label Masters 1007 West College Avenue #413 Santa Rosa, California 95401 United States