Meet Usu Lee (A mom from Australia making $7000 a month)
Meet Usu Lee —
Usu joined my program exactly a year ago, in June of 2019. A working mom from Australia, this was not her first attempt at Amazon.
She had been burned before by another course, and had launched a failed set of 5 products in 2018 – the result of hundreds of people following the same copycat research methods, all the while not being taught how to properly differentiate themselves from the pack… Recipe for disaster!
When she joined my program, she was understandably hesitant… not wanting to put her limited and precious finances on the line, just to be burned again.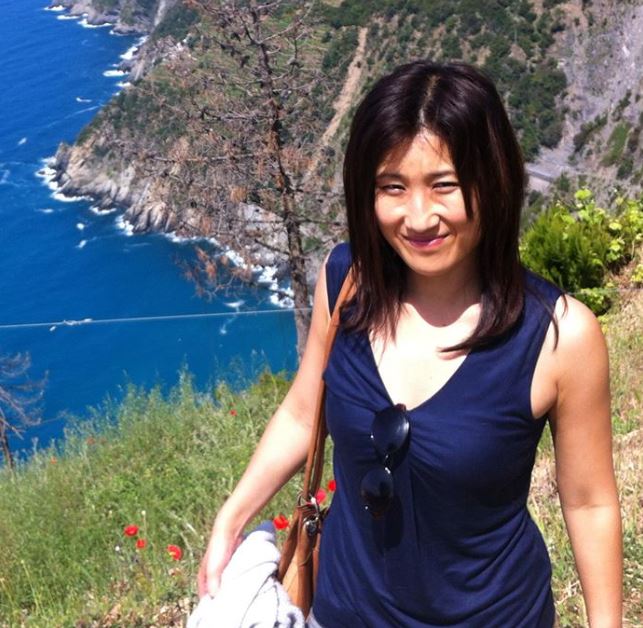 Usu had a dream to have an online business that could enable her and her husband to quit their jobs and travel.
What she didn't have was the right up-to-date knowledge that could elevate her products above the pile of copycat competitors, to truly become successful on Amazon.
Who? Usu Lee
Problem: Doing the same thing as thousands of other sellers.
Solution: Join Private Label Masters (my in-depth training program that shows you how to successfully generate an income through Amazon FBA by following the array of methods I use in my own 8-figure private label business.)
Did it work? Yep. Although gun-shy at first, Usu soon relaxed, realizing that my program doesn't hand out cookie-cutter product ideas, or give the same exact research template to all students. She was able to gain a broader and more complete view of how I personally do product research (it's actually a blend of several methods), and how I've been able to build my own business of over 120 of my own products. This is a process she was able to duplicate for herself, and ended up finding a perfect product – one that was in that sweet spot for her own budget – selling 8-10 products a day.
Here's a screenshot of Usu's recent sales numbers —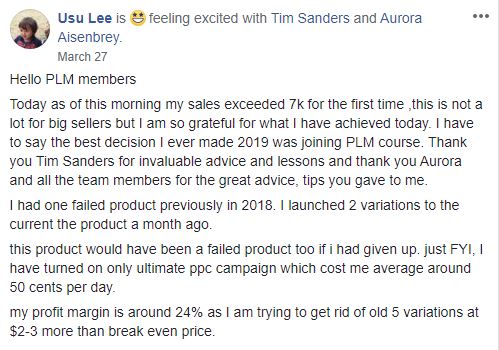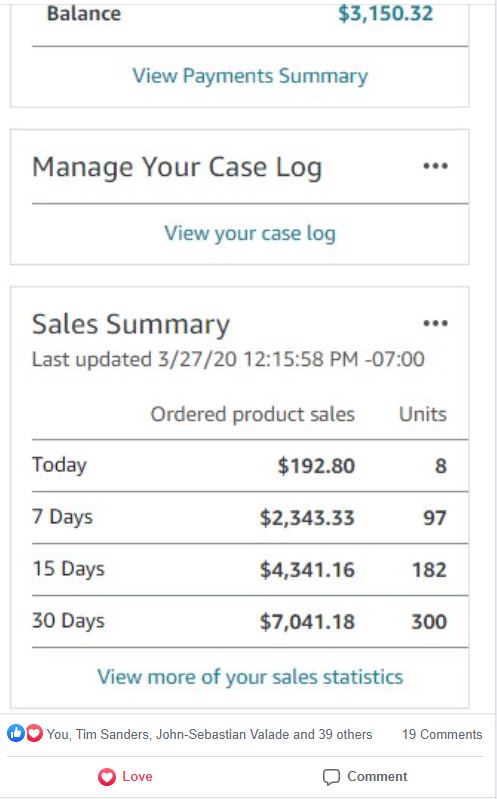 Here's what I can tell you about Usu.
She is persistent and BRAVE! It took courage to trust my training and to follow it step by step. She didn't have a huge bank account to fall back on. But she did have my and my team's expertise and support. And that trust in us has enabled her to accomplish things she could not have done before.
You see, it's not always the fastest selling or hottest trend that is the winner. When you are starting on a small scale, you need to know how to accurately pinpoint a product that is at your own speed, and within your own budget. And that nuance is a skill that many other courses neglect to teach. As a result, many of their students end up getting bulldozed by the market, or just unable to financially keep up with the massive restock orders they would need to place just to maintain a "hot trend item".
I want something better for my students. In my program, my goal is not to just churn through people… but to train up future Masters! It's my goal that my students will be able to become precision EXPERTS at private labeling, eventually growing their skill level until they can build multi-million dollar businesses of their own. And this type of expertise cannot be acquired by handing out pre-chosen product lists.
My students know that they need to apply the knowledge and do the work, and when they do, they are seeing the concrete results! This personal growth and change is something you cannot put a price tag on.
Usu took to heart my "Compound Layering" approach to research… using all the tools in the toolbox, not only one. And now she's on the right track, with 3 variations of a great product, cooking along.
Her dream back in 2018 was to generate enough income that both she and her husband could quit their jobs, and finally, she is now well on her way, that goal visibly on the horizon!
From Cookie-Cutter Conformity… to a Master in the Making!
So, do you want results like these for yourself?
If you do, I have good news! We can get you results like this. It won't be easy, nor will it happen overnight, but I've seen it happen so many times that I can tell you that's it's possible.
You've got to be brave, willing to study, ready to implement, use the whole toolbox, not rely on hand-holding, be willing to encourage others, be patient with yourself, trust the process, and Never Give Up!
If these attitudes sound like you, then it's time to get to work!
Click here to complete this short survey and let's begin the journey.
-Tim
Private Label Masters 1007 West College Avenue #413 Santa Rosa, California 95401 United States