Hey Amzreader! This will be the final email you'll receive from me about ASM12 because the launch is ending TONIGHT at 11:59 PM PST.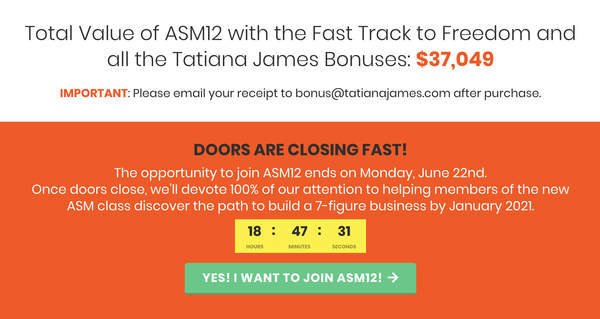 When you buy the ASM12 course, you're only paying for the course. All the bonuses are given to you for free as part of the ASM12 launch because we all want to help you succeed. So we're trying to do the best we can to provide resources/services to help you along the way.
If this is a big decision for you, I think that's a GOOD thing. You've got to truthfully ask yourself how serious you are about building an online business and then reflect on you personal circumstances and determine when you will create the time to work on it.
If this was a $97 course with only 3 hours of content, it'd be very easy to make the purchase, complete the course and not take any action because physiologically we'd rationalize that we didn't lose much.
But the people who buy ASM think long and hard about their purchase because nobody throws $5K around like it's nothing. When you're financially invested, you won't lack motivation to get to work.
That's why I love working with ASM students. In fact, the only time I offer coaching is to people who have invested in the ASM course. Because they're seriously committed and have a no excuses type of attitude.
I hope I can be your coach! I'm offering 8 weeks of live group coach and then private email coaching as part of my bonus package.
But it expires tonight at 11:59 PM PST.
They also have a 30-day money-back guarantee.
So if the course isn't all I've hyped it up to be and you're unsatisfied, you can request for you money back within 30 days, no questions asked.
Did you hear about their 2020 Success Promise? This means you have until December 31st, 2020 to go through the ENTIRE program to see if this is the right business for you. If it's not, you could qualify to receive a refund for the course AND up to $5,000 in inventory reimbursement. Read the details here.
If you have questions, you can chat with my on this page.
To Your Success & Fulfillment,
P.S If you've already signed up for the course but didn't use my link and want to get my bonuses, please email your receipt to bonus@tatianajames.com so I can help you out!
P.P.S If you register over the phone, let them know you want to be linked with Tatiana James so that you will be eligible to receive my bonuses.
9 Temasek Boulevard 04-02
Suntec Tower Two
Singapore Singapore 038989
SINGAPORE